Reduce the Cost of Managing Supplier Invoices
SUPPLIER PORTAL CLOUD PLATFORM
Don't lose any more invoices
iMep.net/SP is a Cloud Platform Portal that allows the integration of standard documents automatically using OCR technology.  This module is designed so that both suppliers and the customer can connect to the platform independently and have access to the corresponding documents.
The Supplier Portal integrates an approval workflow that interfaces with the PO.
DOCUMENTS MANAGER
Store documents by sections and hierarchies with different levels of security for the users in your organization.
RECEIVE DATA IN ERP
Integrates with any ERP system and allows simultaneous integration with multiple ERP systems.
REPORTING & BI
Ensure data consistency and visibility with iMep.net/SP.
Improve control and insight over your spend
iMep.net/SP has an integrated analytics layer that shows you the most relevant data regarding your documents so you can make better decisions.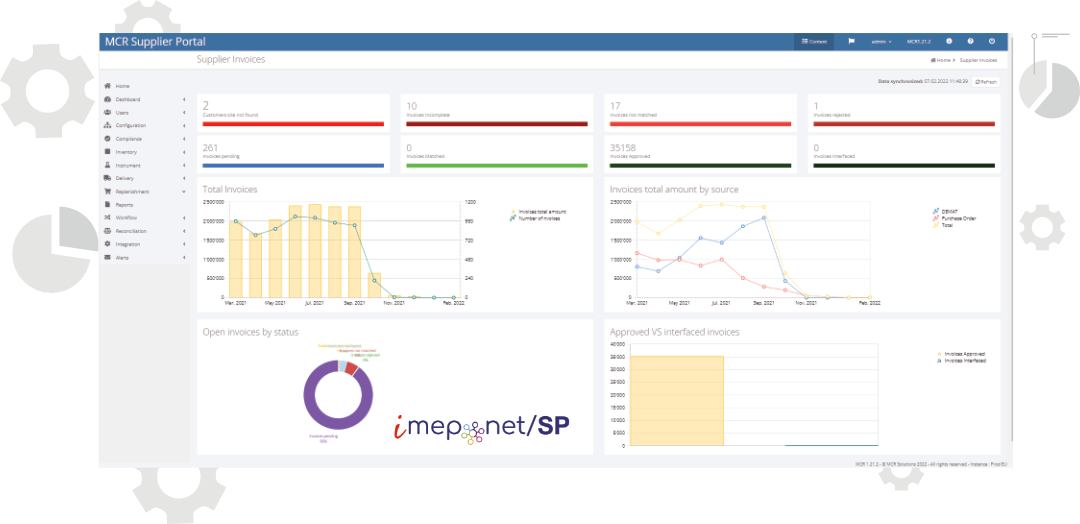 Key Features
Reduce invoice mismatches by allowing suppliers to turn a PO into an invoice in one easy step
Suppliers have access to transaction details, invoice status, payments and more without engaging AP
Existing suppliers can use invoice or purchase order detail
Suppliers access the system outside the firewall and are limited to their own transactional detail.
Reduction of manual errors
Analytical control panels
Web browser with no need to install any software
Bring any invoices to iMep.net/SP and accelerate your digital transformation
PO, Invoices & Deliveries (ASN)
Manual creation
EDI integration
Approvals
Track and Trace
Match and Approve them
Create them in your ERP automatically
Suppliers
Logistics operators
ERP(s)
EDI
Analytics
Doc. Mnt & DEMAT
Blockchain
Products, lots, serial numbers
Deliveries
Compliance (who, what, when)
Digital signature (Blockchain)
OCR, map your supplier invoices following 80% - 20% rule
Quick mapping thanks to a tagging approach
Easy integration with supplier
The PDF is linked to the transaction in iMep.net
Let us Help You Optimise your Costs
If you have any questions about iMep.net/SP or how it can be adapted to your particular needs, please contact us and one of our experts will contact you as soon as possible.